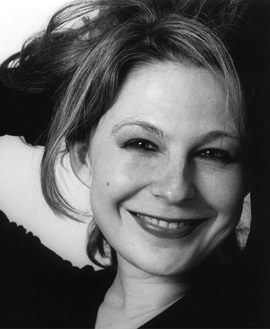 Jill Crossland
Chopin - Ballade No 3 in A flat Op 47

Chopin - Etude Op 25 No 1

Chopin - Etude Op 25 No 2

Chopin - Fantasie-Impromptu

Chopin - Nocturne in F minor Op 55 No 1

Chopin - Nocturne in F minor Op 55 No 1 v.2

Chopin Prelude Op 28 No 7

English pianist Jill Crossland was a pupil of Ryszard Bakst and Paul Badura-Skoda and now pursues an active concert and recording career. Her appearances have included Vienna's Konzerthaus and Musikverein, the Leipzig Gewandhaus, London's Wigmore Hall and South Bank, and the Bridgewater and Fairfield Halls, the Sage Gateshead, and St George's Bristol elsewhere in the UK. Jill has recorded Bach's Goldberg Variations (Warner Classics) and his complete Well-tempered Clavier (Signum Classics), which has been widely described as one of the finest versions to be released. Other recordings for Divine Art include works by Mozart, Beethoven and Handel. Her recent DVD for the UK Entertainment Channel features Chopin's Ballade No 3. Jill regularly performs Ballades, Scherzi, Nocturnes and Etudes by Chopin.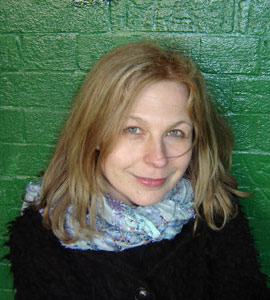 "Recently, I have come to appreciate very deeply the humanity and vulnerability that are apparent in Chopin's music. It is easy to speak of his affinity with the soul of the piano, with how he was able to enchant, to seduce and to win over the listener with the intricate, yet effortless embroidery of his writing. But to use that Romantic theoretical distinction, Chopin's music is not simply beautiful, it is also sublime. Sublime in the sense that he was constantly aware of mortality and of the everyday fragility of life. Chopin succeeded in expressing tragedy modestly, always on the right side of the line between truthful self-expression and sentimentality."
About Chopin
Jill Crossland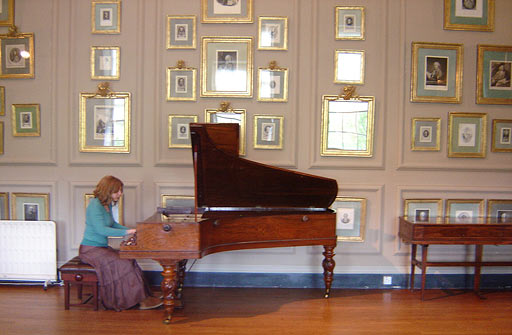 Jill Crossland playing on Chopin's own Pleyel piano.
The rehearsing for a recital for the Cobbe Collection at Hatchlands.
Frederic Chopin visited England in 1848 and brought with him a piano made in 1846 by his friend Camille Pleyel (and probably the one depicted in a painting of Chopin's Paris apartment). Chopin had what would today be thought of as a sponsorship deal - Pleyel provided the pianos free; Chopin promoted them and received a commission on each one sold. Chopin genuinely loved Pleyel pianos; but when ill health forced him to return to France, he sold it; it was acquired by chance for the Cobbe Collection and only shown to be Chopin's own piano after exhaustive research.